Alumni
Maria Hafiz Ismail
Reporter | Awami Awaz Karachi
"The CEJ is a great platform to polish our journalism career. The trainers and guest speakers in the workshops are experts in their fields. One should not miss an opportunity to attend a training at CEJ."
Syed Amir Hussain
Head of Digital | TvOne NewsOne
"I would describe my experience in one word: Excellent!"
Lehaz Ali
Reporter | AFP/ Neo News
It was wonderful to be part of the training on Humanitarian Reporting. The training gave us an opportunity to discuss humanitarian issues, laws, and digital security, and underscored the importance of reporting accurately and in detail on issues such as IDPs and Afghan refugees. It was a rich experience as it allowed us to build connections with reporters from across the country, with reporters from Karachi to Gilgit Baltistan attending the training. Such trainings should be arranged regularly.
Naveed Ahmad Khan
Special Correspondent/ Head of North | Daily Times Islamabad
"I would like to share that both professionals and fresher should take advantage of this great opportunity and participate in the training proactively. This is the finest platform to sharpen your skills and professional approach. If someone is getting an invitation from CEJ to participate in workshops, they should simply not to miss it. Trainings opportunities at CEJ would strengthen your abilities to manifolds.
Kavi Shankar
Senior assignment Editor | Dawn TV
"The Centre for Excellence in Journalism is an excellent institution of Pakistan. Where modern methods of teaching are provided. This plays a helpful role in nurturing of young journalists"
Ali Ashraf
Senior Reporter | Din News (Lahore)
"My experience with CEJ has always been great and full off knowledge. Journalists who want to enhance their journalistic vision and approach they would miss workshop opportunities offered at CEJ."
Umer Farooq
Multimedia Reporter | VOA Urdu (Peshawar)
"I was part of Humanitarian Blogging workshop and the experience was amazing, it helped me in improving the way I used to report earlier."
Junaid Khan
News Reporter (Peshawar Bureau) | Capital TV
"CEJ play a vital role in today's Journalism. It's a great and prestigious organization which helps to facilitate Journalists all over the country and i Strongly recommend for other journalists."
Islam Gul Afridi
Investigative Reporter | SBS Radio Australia (Peshawar)
"My journey with CEJ started in 2017 and since then it has been a great learning experience. CEJ is the only institute in Pakistan that is working for the betterment of Journalism in the country."
Fouzia Sultana
Senior Producer | Radio Pakistan (Lahore)
"I had a wonderful experience at CEJ, journalists should not miss the opportunity of attending workshops offered by CEJ."
Sheema Siddiqui
Digital Writer | Geo TV Karachi
"CEJ has provided journalists with a platform to polish and enhance their skills. Trainings offered by CEJ has helped me, in understanding on how to maintain a, balance and focus stores on difficult subjects. It provides a good relationship with professionals and senior experts from all over the Pakistan."
Waris Sultan
Content Writer | Dunya TV Lahore
"CEJ is a renowned platform for journalist. With the aim to produce competent journalists it contributes a lot in Prophetic type field journalism."
Qazi Fazli Azeem
Assistant Professor | Karachi Institute of Technology and Entrepreneurship
I was fortunate to attend the advanced documentary production workshop where I was taught by Brent Huffman from the Medill School of Journalism and my ex-student from szabist, Emmy award winning Asad Faruqi. Everyone went out of their way to help us and we worked according to our schedule and requirements and were comfortable with the equipment that was provided to us. It was an excellent learning experience that I now pass on to my own journalism and media science students when i teach at universities in Karachi. I look forward to taking more advanced courses at CEJ in the future and have referred many of my students there.
Dont be afraid to ask questions, no matter how simple they are, or to connect with the speakers and the participants, as everyone is here to network and learn together. Make sure you pass around your business cards and are on a first name basis with your group members. Most of all, have fun learning.
Taimur Shuja Akhtar
Independant Media Consultant & Trainer
Fantastic, I was from the pioneer first batch of journalist who were selected for the first time ever "Backpack Multimedia Journalism" training for two weeks in 2014 which changed the whole idea of field reporting to me. Not only that I later on came twice and learnt a lot from "Newsroom Management" workshop in 2016 and "Training of Trainer" Workshop in 2017. I must say that Pakistan is in dire need such places where the young and old can simultaneously learn not only from the local but also from foreign trainers and contributors.
This is the place to be if you want to learn practical journalism and state of the art techniques as well as technologies from around the world for the working journalist in Pakistan. CEJ will always lead in innovation and ideas due to its progressive training styles and understanding the local needs.
Adnan Baloch
Blogger/Citizen Journalist | Government of Baluchistan
Every person who is working in the field of journalism once must visit CEJ, they will definitely feel the change in their work and techniques
Erum Hafeez
FACULTY MEDIA STUDIES AND FREELANCE | FEATURE WRITER & BLOGGER | INSTITUTE OF BUSINESS MANAGEMENT (IoBM) KARACHI
CEJ is one of its kind Center in Karachi, Pakistan where one can get hands on training in the diverse fields of journalism, media and communication. With its dynamic faculty, state-of- the- art facilities and futuristic approach, it gives media and journalism professionals and students an excellent platform to network, learn and share new trends and techniques to cope up with the challenges of the fast-changing media industry in the 21st century.
Umaima Ahmed
Editor | The Nation
It seemed as if I was studying in some foreign university with highly qualified teachers and staff. CEJ is doing a wonderful job in providing opportunities for people who want to excel in their careers.
Learn as much as you can from CEJ it will take you a long way!
Khazir Klasra
Reporter | Associated Press of Pakistan
As a journalist, the experience was gorgeous. the professional belonging to various parts of the Federation contributed a lot in learning teaching environment with excellent chance of sharing experiences. being conducted in Karachi, it provides chances of visiting the important places there. The international human resource contributed all the more. In the end, I congratulate the entire team of CEJ for hospitality.
Hamid ur Rehman
Reporter | Neo News
I had a great experience at CEJ but along with that I think CEJ platform is more fruitful for the new comers.
The media students who have recently got out of the university have opportunities in CEJ to polish their skills.
Awais Hameed
Executive Producer | Express News
I had been at CEJ twice and both experiences were excellent opportunities which equipped me with latest professional skills.
Make the best out of this great learning opportunity which is nowhere else available in Pakistan.
Muhammad Sharjeel Ashraf
Editor | The News
Highly Informative
I participated in the Data Boot Camp workshop. My advice to new participants is to be active, ask questions wherever you get stuck, and network with fellow participants because they will come handy later in your life. Good luck.
Jabbar Chaudhary
Editor | 92 News
It was wonderful fun to be at CEJ for a week, learned a lot and implemented in my newsroom.
I recommend every journalist in Pakistan to must attend workshop relevant to their job at least once.
Faraz Chandio
Blogger/Citizen Journalist | Freelancer
I learned a lot in my Editing for Print course because after spending a decade in journalism i had no any training regarding Journalism, from my experience in CEJ, here are the most important things which i would like to share I thoroughly enjoyed my course and now have very valuable experience. I know how it is helping me I was dreading it in the beginning, but now I am so happy it was required. that is why i did it. Before doing this course i was working for a Urdu Newspaper as soon as i completed i got job in English newspaper and beside reporting i do work for foreign news agencies as well and it has been possible only because of this short course of CEJ. I learned more than I ever expected. I felt in the beginning that I would really have a head start being that I am a senior and people will laugh at me but i found very friendly teachers and atmosphere. This course has been a valuable one in that I have learned how to work with many types of people in many types of situations. It has taught me to not take things so personally, that job is just job and it is not personal. "More than everything, though, I have learned through my course the value of hard work and how to work as a team with other people. I think this type of course is extremely valuable to un-trained Journalist. It is a small taste of the real world. It helped reinforce my knowledge of responsibility, focus, drive and ambition. Thanks CEJ
To the future participants my advice is to anyone looking to improve their journalistic experience once must be a part of CEJ. Because you can have chance to use every opportunity to become better. As you evolve as a Journalist make sure to task who you really are to the world and that way you will be in control of who you really are such things you will explore in yourself.
Farhan Ahmad
Reporter | AAJ Television
It was pretty amazing experience at CEJ because of highly professional environment. The most important thing about my training in CEJ is that it brought good changes in my work which are so vivid in my reporting. Thanks to CEJ
Pick the relevant course for you and CEJ will provide you the experts of that field.
Salman Lali
Producer neo @ five | Neo News
I was given an opportunity to participate in one of the training courses offered by iba cej. I didn't know what to expect from this training initially, But after attending it, i must admit it was one of the best learning experience I have ever had in my life, every one at cej was helpful and cooperative, their devotion and commitment for meaningful journalism in Pakistan was impressive. I have no hesitation to say that after the training i was a different person and different professional. Much more confident, because it helped me to meet journalists participation from rest of Pakistan and learn many new things.
We are fortunate to have this institute in Pakistan. I am sure future will participants will have great leaning experience here at CEJ.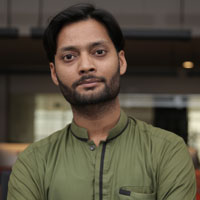 Muhammad Iqbal Baloch
Director/Journalist | VSH NEWS TV
My experience with CEJ has been an incredible learning one. The comprehensive courses designed to teach a particular topic were very informative. The courses afforded me an opportunity to further hone my skills in news editing and learn more about Journalistic ethics. The courses were attended by journalists from across the country that gave me an opportunity to get acquainted with other professionals and exchange ideas and experiences. I found the environment very conductive for learning while the well-equipped media laboratory allowed on campus execution of assignments.
CEJ is worth your time and money for learning all about media and journalism in Pakistan, and perhaps the only academy at hand in the country that is imparting quality education in the discipline. In Pakistan where journalism is massively produced, the Center is playing a crucial role in educating both working and aspiring journalists about news ethics and international-standard journalism. The instructors at the center are all renowned former and current media persons, editors and visiting-foreign faculties, making it a preferred academy in Pakistan for media studies.
Adnan Aamir
Editor | Baluchistan Voices
I attended three training programs in CEJ. Two of these program was two-week long residency programs and these were the few thorough training which I ever received in my journalistic career. CEJ trainers trained us on the topic in detail and we felt that we have gained something from the training. Apart from that all supporting staff at CEJ was thoroughly professional and supported all the participants in every way possible. I believe that three trainings in CEJ were among the best time of my journalism training experiences.
My message is that try to make the maximum out of the CEJ trainings and keep on practicing what you have learnt. In this way you will not forget the learning imparted in training.
Naeem Ahmad Sabir
Editor | MTA International Pakistan Studios