Trainers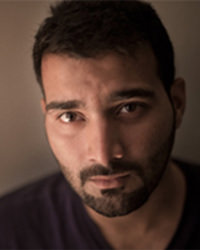 Asad Faruqi
Lecturer
Asad Faruqi is an Emmy Award-nominated cinematographer, photographer and filmmaker based out of Karachi, Pakistan. Over the past eight years he has filmed a number of films, including 2016's Academy Award-winning documentary short, " A Girl in the River: The Price of Forgiveness" and 2011's Academy- and Emmy Award-winning documentary, "Saving Face".
At present, Faruqi is producing/directing "Indispensable", a film that follows two bomb disposal squad members of the KPK Bomb Disposal Unit to the front lines of the war in Pakistan. Some of his other notable works include Emmy and Alfred I DuPont Award-winning "Pakistan's Taliban Generation" and "Transgender: Pakistan's Open Secret". His work has featured on HBO, The New York Times, PBS, Channel 4, CBC, SBS, and Arte among others.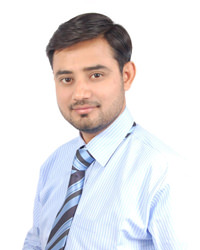 Asim Bashir Khan
Lecturer
Asim Bashir Khan is a PhD scholar in the Department of Economics and Finance at the Institute of Business Administration (IBA), Karachi. Khan is a young economist and has served the Government of Sindh on energy, investment, trade, public policy, and reforms. In journalism, his primary area is data journalism and he writes for national and international media. He has been master trainer for programs based on data journalism at the Centre for Excellence in Journalism, IBA, and the Pakistan Press Foundation.
He has been continuously writing on federalism and fiscal reforms in Pakistan. His area of research and publications include public finance, federalism, trade, political economy, agriculture, poverty, inequality and social reforms. To his prominent authorship are 'The Price of Nonconventional Security" published by the Carnegie Endowment for International Peace, Washington, DC, USA-2016 and "Fiscal Federalism in Pakistan: Emerging Dynamics, Issues and Prospects" published in Issues in Pakistan's Economy: A Political Economy Perspective, Oxford University Press, Karachi-2015.
Ayaz Imtiaz Ahmed Khan
Lecturer
Ayaz Imtiaz Ahmed Khan is a multimedia trainer, researcher and technology specialist (System Administrator Broadcast IT) at Express News. For the last two years, Khan has led the development of Mobile Journalism production model that harnesses the potential of smartphones as content creation devices. He has also trained the journalists at Express News Karachi and Lahore bureaus with concepts and storytelling techniques.
Khan also led a research program for MoJo in Karachi, Lahore and Islamabad regions. This program was based on hands-on testing with professional mobile gadgets, journalist reviews, discussions and collaboration with national and international journalists, speakers and instructors. Khan has led the following projects at Express News: MoJo, Drone Live PSL'17, Web TV and Mobile Studio, 360 Photo and Video research-based project and Broadcast Information Technology. He is also certified as Microsoft Certified Technology Specialist (2012), broadband certified from World Call Telecom (2006), BIT Millennium System (2002).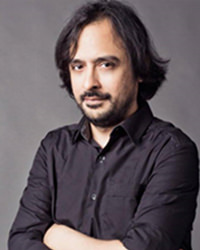 Faisal Sayani
Lecturer
Faisal Sayani is a freelance journalist, independent filmmaker and producer most recently with Dawn News. Sayani has also conducted training sessions with Express News and Geo News. His career has also included serving as the Creative Director of Sydney School of Arts and Humanities in Sydney, Australia, and Head of Programming at Express News.
Gibran Ashraf
Lecturer
Gibran Ashraf is a journalist based in Karachi. He holds degrees from Karachi University in Bachelor's of Arts in Communication with a focus on Economics and International Relations, and a Master's of Art in Communication, with a focus on Electronic Media. In the past decade, he has worked for The News International and The Express Tribune.
Apart from his career in print, Ashraf transitioned into the digital arena, where he works on multiple platforms and mediums, including mobile journalism. Ashraf participated in Pakistan's first digital boot camp, hosted by CEJ in May of 2015. He is a member of Pakistan Federal Union of Journalists, Karachi Union of Journalists, and Hack/Hackers Pakistan.
Kamal Siddiqi
Director CEJ
Kamal Siddiqi is the director of the Centre for Excellence in Journalism. Siddiqi joined CEJ after he resigned from The Express Tribune, where he served as editor for more than six years, supervising four print editions and the online edition.
Before joining The Express Tribune, Siddiqi worked as an editor at The News for four years. He has also worked at Dawn, Dow Jones News Wires and Asia Times in various editorial positions. In addition, Siddiqi has taught at the University of Karachi, and Monash University in Melbourne, Australia. He is the author of The Internet Journalist and editor of Journos on Journalism.
Siddiqi earned a Master's degree in Mass Communication from the University of Karachi and another Master's in Media Studies from the London School of Economics.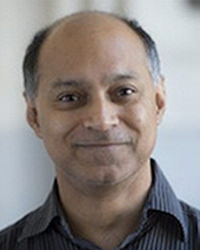 Khurram Husain
Lecturer
Khurram Husain is a leading business and economy journalist in Pakistan. He is an Assistant Editor at Dawn newspaper, and writes one of Pakistan's most widely read business and economy columns. He was Pakistan Scholar at the Woodrow Wilson Center in Washington DC in 2013-2014, where he carried out archival research on the history of Pakistan's relationship with the IMF. He is an invited contributor by Routledge for their handbook on Pakistan (forthcoming), and is working on a book on the history of Pak-IMF relations. He also has television experience, where he made documentaries, anchored discussions on economic affairs, put together day-long special transmissions as well as managed the daily news flow. He has worked with the BBC, Express News, and Dawn News. His work has appeared on CNN, BBC, and Emerging Markets, among others.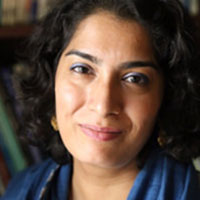 Mahim Maher
Lecturer
Maher is the news editor of independent weekly The Friday Times. She has been working as a journalist in Karachi for 17 years, managing newsrooms and large teams of reporters, subeditors and photographers. She has a Postgraduate Diploma in Arts (one-year programme) from the University of Melbourne, Australia; she studied Creative Writing at Concordia University, Montreal, and has a B.A. in Modern Languages (Russian and German) and Mathematics from McGill University, Montreal, Canada. She is a Daniel Pearl fellow and a Jefferson fellow.
Maher has served as the founding metropolitan editor for the Karachi sections of two national English newspapers, Daily Times and The Express Tribune.
She is invested in collaborating with other journalists to experiment with big data and mapping to supplement her long-form writing on Karachi's urban planning. Her newsroom experience has also pulled her into working and learning with younger journalists on tackling ethical and aesthetic issues while reporting rape and violence.
Mubashir Zaidi
Lecturer
Mubashir Zaidi is an award-winning senior broadcast and multimedia journalist, news and communications manager and trainer with more than 22 years of experience working in top national and international organizations.
Zaidi is currently working as an Editor Investigations and host of program "Zara Hut Kay". His responsibilities include supervising a chain of special correspondents across Pakistan. Zaidi also looks after the content of current affairs programs on Dawn TV.
During his distinguished career, he has broken exclusive stories that have made international headlines. Major breakings include an exposé on an air force cadet's deaths due to ragging, military coup and corruption, Mukhtaran Mai rape coverage, lawyers' movement, Benazir Bhutto's assassination, and a sect-free mosque story that earned a Journalism for Peace award.
Munawar Mirza
Lecturer
Munawar Mirza is an award-winning TV Journalist who has reported for the last three decades on major beats including political, economic, crises, and international affairs. His special field of interest is human angle stories that won him three National Awards in reporting. His stories, documentaries, and motivational songs have contributed significantly in creating awareness on issues such as environment, healthcare, literacy, community development, tolerance and youth. His work has involved covering TV news assignments in US, China, Korea, Malaysia, Thailand, Singapore, Central, Middle, and West Asia and also reported for CNN World. He has held senior management and operational positions in PTV and as Director News in Private channels including News One, Indus TV New and Business Plus.
In addition to his professional journalism career, Mirza has an intensive and extensive experience of teaching and training in Media Studies. He has been the head of Media Studies at Bahria University Karachi and taught at Karachi University at BS and Master's level. As a media specialist, he conducts trainings for professionals such as PTV academy, Association of Pakistan.
He is a member of Television Journalists, Karachi Union of Journalists, and other professional bodies. His field of specialty is the use of modern technology for news reporting and productions.
Naween A. Mangi
Lecturer
Naween A. Mangi is a working financial journalist for more than 20 years. She began her career in 1995 and has since worked for several local and international news organizations in Pakistan and the US. Mangi worked as the Pakistan Bureau Chief for New York-based Bloomberg News, from 2006 till April 2015. She is currently a free-lance writer and runs a developmental organization.
In the past, Mangi has worked for The Friday Times, Herald Magazine, Dawn Newspaper, Asia Times, CNBC Asia, CNN, Businessweek Magazine and Forbes Magazine in New York. Mangi received a bachelor's degree in economics from the London School of Economics and a Master's degree in journalism from New York University, with a specialization in business and economic reporting. Prior to university, she attended the Karachi Grammar School.
She has reported extensively for the local and international media on Pakistan's rural economies, focusing in particular on poverty among desert people and farming communities in the province of Sindh.
Nefer Sehgal
Lecturer
Nefer Sehgal is a photographer born and raised in Karachi. She holds a bachelor's degree in Mass Communication from Curry College in Milton, Massachusetts. She has years of experience as a photojournalist and her work has appeared in local as well as international publications.
Sehgal has been recognized as being one of the first female photojournalists in Pakistan to have covered everything from bomb blasts to red-carpet events while she worked at The Express Tribune.
Rahamdil Khan
Lecturer
Muhammad Rahamdil Khan is the Manager IT & Telecom Department at GEO TV Network in Peshawar. He is a trainer and Information Technology expert with more than 15 years' experience. He is a master trainer of Mobile Journalism (MoJo) and has trained more than 170 journalists associated with Geo News, including correspondents, cameramen, producers and editors across the country. This included educating journalists on different technologies, tools and gadgets, such as newsgathering software, shooting on smartphone, audio and video editing, uploading, Urdu typing, BGAN satellite video uploading, and live streaming from a smartphone to social media.
Khan is the first person to introduce mobile journalism in his organization. This includes designing a mobile studio, researching and implementing the MoJo kit for the social media and sports journalism teams and news journalists.
Zofeen Ebrahim
Lecturer
Zofeen Ebrahim began her career as an editorial assistant at Women's Own, an English language women's magazine prior to joining Dawn as a feature writer.
Now working as a freelance journalist, Ebrahim has contributed to many national and international publications, including The Third Pole, Dawn.com, Inter Press Service, and The Guardian. She has extensive experience in research and reporting for NGO's, including a stint as the communications officer at the NGO Resource Center.
Ebrahim holds a Master's degree in journalism. She has received multiple national and international awards for her reporting on economic, development, and environmental issues throughout her distinguished career, including the Green Press Award, IPS Journalist Award, and the Global Media Award.
Aamer Ahmed Khan
Lecturer
Aamer Ahmed Khan is one of Pakistan's most seasoned journalists. He was mostly recently working at Aaj Television as their News Director after returning from London, where he served as an editor for BBC World Service's West and Central Asia Hub and was also the Head of BBC Urdu. Before joining the BBC, Mr. Khan served as the Editor of Herald, Pakistan's premier news magazine and was a member of the team that launched The Friday Times. He has been a trainer with CEJ on 'Reporting on Delimitation' workshops conducted in multiple cities in February and March 2018.
Malik Arshad Aziz
Lecturer
Malik Arshad Aziz is the resident editor of Daily Jang Peshawar and is a regular contributor for The News and Geo News. In the past, he has been associated with Daily Mashriq and Daily Aaj in Peshawar. He has been a trainer with CEJ on 'Reporting on Delimitation' workshops conducted in multiple cities in February and March 2018.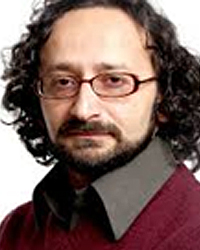 Shahzeb Jillani
Former BBC Editor & Correspondent
Shahzeb Jillani is a former BBC editor and correspondent. He's reported to and from Pakistan for over two decades. He's currently Senior Executive Editor at Dunya News.
Ghulam Mustafa
Journalist Safety & Security Hub Manger
Ghulam Mustafa is supervising an IMS (international Media Support) initiated project regarding journalists Security and Safety in Karachi and allover Sindh. He is Journalist Safety and Security Hub Manger of Karachi Press Club.
Najia Ashar
Broadcast Journalist
Najia Ashar is a broadcast journalist, media consultant and trainer with more than 15 years of experience in Pakistan. She is currently doing a news morning show "GNN Morning" on GNN TV. Have worked as an "Editor News Strategy and Planning" at Aaj News, hosted daily news show "News Hour With Najia" , Knight Fellow 2015 at Stanford, have worked as a senior anchor/producer at Geo News for 12 years. Hold a Master's degree in International Relations, Yahoo International Fellow 2014 and the East West Center Fellow 2013.
Ali Ahsan
Co-founder & CEO of MangoBaaz
Ali Airaj Ahsan is the co-founder & CEO of MangoBaaz, an online media company in Pakistan. Originally from Lahore, Ali holds a Bachelor's of Science in Industrial Engineering from the University of Wisconsin-Madison. Before starting MangoBaaz, he was working in San Francisco at a startup called Okta which went public in 2017.
Owais Tohid
Journalist/Analyst
Owais Tohid is a leading Pakistani journalist/analyst with 27 years of work experience. He hosts current affairs program Crosscheck at PUBLIC TV. He has headed Pakistan's private channels, worked for Agence France Presse (AFP), BBC World Service, written for the Wall Street Journal, Christian Science Monitor ( CS Monitor), published in the Guardian& Time Magazine besides leading publications in India and the gulf countries. He has covered conflicts in Pakistan's tribal belt, extensively travelled in Afghanistan pre and post 9/11, Sri Lanka and Israel. He has formed teams and trained hundreds of journalists working in the industry.
Zubeida Mustafa
Independent Journalist
Zubeida Mustafa is an independent journalist who writes a fortnightly column for Dawn. She is the author of five books the most significant being The Tyranny of Language in Education: The Problem and its Solution (2015), her recently published memoir My DAWN Years: Exploring Social issues (2018) and The SIUT Story: Making the Impossible Possible (2013)
The CEJ recognised her "outstanding contribution and years of dedicated service to journalism in Pakistan" by presenting her with a Lifetime Achievement Award in 2017.
Jesse Hardman (Skype Session)
Radio & Print Reporter
Jesse Hardman is a radio and print reporter based in Los Angeles. He is also the founder of the Listening Post Collective which supports the flow of key news and information in communities around the United States. Hardman has trained and collaborated with journalists in more than 20 countries, including places as diverse as Pakistan, Guatemala, South Africa, and Bosnia. Twitter: @jesseahardman
Dr. Lawrence Pintak (Skype Session)
Journalist/Scholar
Dr. Lawrence Pintak is an award-winning journalist and scholar who has written about America's complex relationship with Islam since 1980. He has been called the foremost chronicler of the interaction between Arab and Western media. Pintak is the author of America& Islam: Soundbites, Suicide Bombs, and the Road to Donald Trump and five other books on the intersection of media, perception and U.S. policy toward the Muslim world; Arab journalism; and coverage of Islam. A former CBS News Middle East correspondent, Pintak was the founding dean of The Edward R. Murrow College of Communication at Washington State University (2009-2016) and is a Senior Fellow at the Rafik Hariri Center for the Middle East at the Atlantic Council. He is a frequent contributor to publications such Foreign Policy, The Daily Beast, Axios and other media outlets. He holds a PhD in Islamic Studies.
Craig Duff (Skype Session)
Journalist/Director/Producer/Writer
Craig Duff is an Emmy award-winning video journalist and documentary television director, producer and writer. He specializes in visual storytelling and explanatory journalism. In January 2012, Craig was named a professor of journalism at the Medill School at Northwestern University, where he continues to teach and now manages the specialization in video and broadcast journalism in the school's graduate program.
His video journalism and documentary work has appeared on several major news outlets, including CNN, NYTimes.com, TIME, NBCNews.com, AJ+, MSNBC, WSJ.com, and The Discovery Channel.
Prior to joining the faculty at Medill, he was the director of multimedia and chief video journalist for TIME, where he oversaw video and other multimedia projects for the magazine's digital platforms and TIME.com.
In the months before he joined TIME, Craig was a Ferris Professor of Journalism in residence at Princeton University, where he taught a seminar on multi-platform journalism. While at TIME, he created a course in multiplatform storytelling for graduate students at Columbia University's School of International and Public Affairs. He also spent a year n Egypt as a Knight International Journalism Fellow at the Center for Electronic Journalism at the American University in Cairo. Prior to the fellowship and during his academic appointments, Craig worked with The New York Times as the paper first ventured into video journalism through the expanded use of video on nytimes.com. He began his career at CNN where he rose to the role as an executive producer of long-form programs.
At Medill, Professor Duff was also involved in the creation of the Centre for Excellence in Journalism at the Institute of Business Administration in Karachi.
His multiple-award-winning television work includes several documentaries produced with the New York Times, The Discovery Channel, the CBC and CNN.
Ghazi Salahuddin
Senior Journalist
Ghazi Salahuddin is a senior journalist who writes a weekly column for The News (English) and Jang (Urdu). Before he became the launch editor of The News in Karachi in February 1991, he served Dawn in a number of important positions, including as the News Editor. During the Martial Law of Gen Zia-ul-Haq, his column 'Karachi Diary' was a leading voice of dissent. He has also been associated with the electronic media and for some time was on the panel of PTV's 'Kasauti' quiz show. In recent years, he hosted a programme on books on Geo. In his youth, he wrote Urdu fiction that was well-received. Ghazi Salahuddin is also a social activist and human rights defender. He is a recipient of the President's Pride of Performance Award in journalism and was presented with the Bibliophile of the Year Award 2011 by the National Book Foundation.
Farieha Aziz
Journalist
Farieha Aziz is a Karachi based journalist and a co- founder of civil liberties and digital rights advocacy group, Bolo Bhi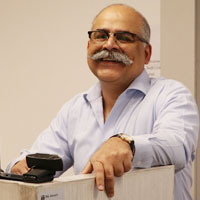 Shahzad Sharjeel
Columnist
Shahzad Sharjeel is a columnist for a national English daily and a development practitioner. He also teaches university level courses in International Relations, Development, and Media Sciences. His first book of poetry was published in 2008 and second book to come out this year.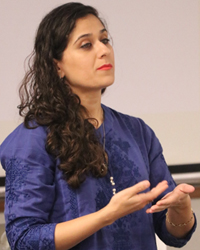 Sahar Habib Ghazi
Design Thinking Trainer, Journalist, Strategist, and Community-builder
Sahar Habib Ghazi is a design thinking trainer, journalist, strategist, and community-builder. She has led trainings for the Centre for Excellence in Journalism at IBA, Digital Rights Foundation, International Red Cross Committee, Punjab Police, Punjab Prosecution and UNICEF. As a JSK Journalism Fellow at Stanford University in 2010-2011, Sahar studied design-thinking, leadership, innovation and entrepreneurship. Sahar ran digital news operations at Global Voices from 2012-2018, where she built systems and nurtured communities to produce reporting on 150 countries in 30 languages. Sahar has reported for The New York Times; produced for Geo TV and DawnNews TV, a channel she helped launch in 2007. She serves as a board member for Media Matters for Democracy. Sahar currently runs WorkPlay, a training and consulting company that leverages design thinking and improv to nurture innovation, inclusive collaboration, and agile leadership.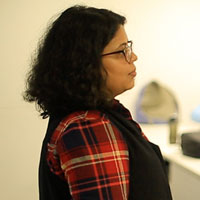 Hina Ali
Journalist and a Documentary Filmmaker
Hina Ali is a journalist and a documentary filmmaker from Karachi. She now lives in Brooklyn, New York.
In the last 12 years, she has reported for The Nation, The News, Aman Ki Asha, and The Express Tribune. She has produced news, talk shows, reality series, and documentaries for Dawn News, Express News, Aaj News, Coca Cola International, SOC Films, BBC, PBS, Netflix, Amazon Prime, Vice, Hulu, Spotify, and Cheddar.
One of her recent feature documentaries Among the Believers was nominated for an Emmy Award in 2017. Her documentaries have been screened in over 50 film festivals in 30 countries.
Hina graduated from the University of Karachi in 2006 with an honor's in journalism and a master's in advertising and PR. She is a Chevening South Asia Journalism Fellow and a Hubert H. Humphrey Fellow.
She is currently working on a feature documentary about her personal journey of being an immigrant in America.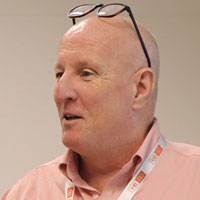 Edward Lane
Senior Editor
Ed Lane is the senior editor for FiercePharmaAsia based in Singapore, covering the broad biopharma industry in Asia. He has previously worked as a senior correspondent in Southeast and South Asia. He holds an M.S. in Journalism from Columbia University and a B.A. in Geography from Wayne State University.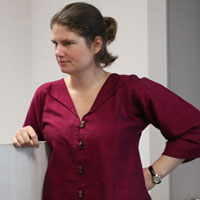 Eva Constantaras
Senior Editor
Eva Constantaras is an investigative data journalist specialized in establishing data units in mainstream media in developing countries. She has reported from Latin America, East Africa, the Middle East and Asia on topics ranging from human rights and organized crime to reproductive rights and food security. Her data units operate in Kenya, Afghanistan, Pakistan and Central America. As a Google Data Journalism Scholar and a Fulbright Fellow, she developed her first courses for investigative and data journalism in high-risk environments.